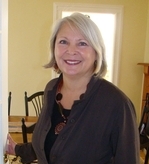 Linda Russell has been helping buyers and sellers realize their real estate goals for over 20 years in and
around Montclair and the surrounding areas. She lists and sells homes in Essex, Passaic, Bergen, Morris,
and Union counties. Her love of old homes brought her into real estate, her desire to help buyers find a
home they love, or to help sellers move on from one, has given her a caring dedication to her clients.
She is a member of the National Association of Realtors and the West Essex Board of Realtors. She has
appeared on HGTV's Bought and Sold highlighting her talents as a listing agent and home stager.
She serves on the Montclair County Democratic Committee, is on the board of the First Montclair
House, a senior housing complex, and also sits on the board of The 100 th Monkey Foundation, a non-
profit charitable foundation that raises money by hosting concerts and donating the proceeds to local
organizations.
Linda is a graduate of Montclair State University. In her previous life she was an owner of a local
haircutting salon, and a freelance hair and makeup stylist for TV, commercials and photo shoots.